The most important part and often the most expensive part of an engagement ring is the main diamond. A girl usually has a favorite shaped diamond that she wants to use as the main diamond in her ring. In this article we will discuss the most popular diamond cuts used in engagement rings. At Diamond Exchange Houston our goal is always to get our customers the
biggest and nicest
diamond for your particular budget. If you are in the market for diamonds or engagement rings then contact Diamond Exchange Houston today by filling out our contact form or by calling us at 281-623-1105.
The cut of the center stone in a diamond engagement ring makes all the difference. Deciding which shape of diamond appeals to you is an excellent place to start. When it comes to finding the diamond ring of your dreams, thinking about which diamond cut you would like should be a priority.
There are innumerable diamond cuts available, from the famous round brilliant to the fancy cushion, you'll be inundated with choices. Each cut of the diamond reflects light in their inimitable fashion. Their diversity of cuts, shapes, and overall appearance determine how the final ring looks.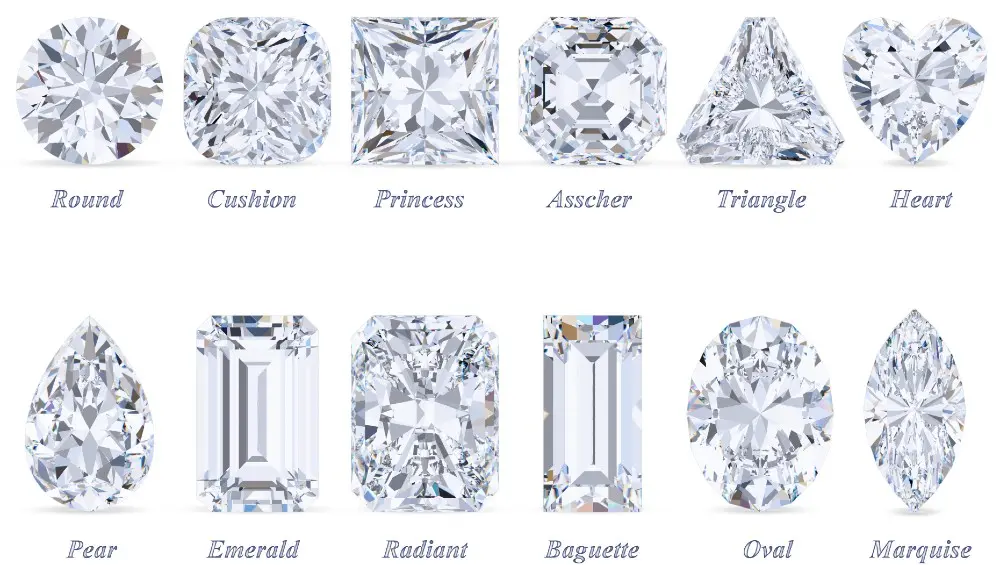 Top Diamond Cuts Used In Engagement Rings

Whether you're looking for something vintage, modern, low-key, or outrageous, these eight most popular diamond cuts for engagement rings are what you will see a married woman wearing most of the time on her finger. In this section we will rank them from most popular to least popular:
Round Cut
Round cut is undoubtedly the most popular diamond shape among them all. Its circular shape maximizes the stone's fire. Round, brilliant cut diamonds are perfect for solitaires, twin and three-stone settings as well as geometric settings. This is the best choice for brides who prefer all things classic.
Princess Cut
The renowned princess cut is another wildly popular style of diamond cut. The versatile face-up appearance of a princess cut is the prime choice for a sleek yet classy engagement ring. The princess cut costs less than the round cut diamond, yet offers a geometrically modern look.
Cushion Cut
Rounded corner combined with a square-cut much like the shape of a pillow makes a glorious cushion cut. The classic 58 massive facets enhance the diamond's brilliance. Crafted during the 18th century, the cushion cut diamond was then referred as old mine cut. Cushion cut diamond has made a roaring comeback in the recent years.
Oval Cut
The oval cut diamond in its oval contour offers identical brilliance of the round cut. The oblong shape with its elegant sparkly features creates the illusion of a long finger. Nonetheless, a poorly cut oval diamond will definitely suffer from the "bowtie" plague as well as the inclusions and other flaws. A salt-and-pepper oval diamond will address this issue by simply making these inclusions an essential aspect of the look.
Emerald Cut
The emerald cut has been celebrated for its uncommon Art Deco aesthetic. The emerald cut is characterized by its open table, cropped corners, and rectangular step cuts. Unlike the round or princess cut it offers understated sparkle known as "hall-of-mirrors" effect. The angular lines and long silhouette showcase the diamond's clarity while spectacularly catching the light.
Marquise Cut
The regal feel of a marquise cut sets it apart from others. Its differentiated silhouette is highlighted by pointed ends and curved sides. Its narrow and long shape creates the sought-after illusion of bigger size while elongating the finger when positioned vertically. However, pointed edges mean an increased risk of breakage and chipping unless set properly. On the other hand, a noticeable "bowtie" effect of dark space can appear at the center of a marquise diamond if the stone's not cut well.
Radiant Cut
True to its title, the radiant cut diamond actually catches the light magnificently. The timeless features of this shape mimic the emerald cut whereas its deeply cut facets offer that extra sparkle. The radiant cut having eight corners also has minimal chances of breakage or chipping.
Heart Cut
The eternal emblem of love, the contemporary heart cut diamonds are special symbols for the hopelessly romantic. A complicated cut, the heart diamond shows excellent sparkle and exquisite symmetry of silhouette.

Schedule An Appointment Today To Compare Different Cuts of Diamonds
Hopefully, this article has given you great insight on the different diamond cuts that are available for engagement rings. When you visit Diamond Exchange Houston you will be able to compare different shapes side-by-side to determine which one you like the most. Diamond Exchange Houston is known for our amazing selection of wholesale diamonds and engagement rings. We offer the most popular shapes of diamonds for engagement rings and other types of jewelry. Get started today by filling out our contact form or by calling us at 281-623-1105. We look forward to hearing from you.
Happy Customers
Great customer service, awesome free cleaning of jewelries you bought from them. And they even upgraded my old ring box that I got from them 2 yrs ago
Fast, honest, and professional
I received a beautiful ring, prompt and polite service, and an excellent price! Thank you so much!
Patrick Gartner
2023-10-28
This is the best place to go! Excellent customer service and outstanding personalities involved in the transaction. Thank you!
The experience and treatment was above and beyond! Nick and his team were very personable and made it seamless for us to find the perfect ring for our big day. We highly recommended their quality and service and will be back for future pieces. Thank you for taking such wonderful care of us!
I wanted something unique as my anniversary ring. Diamonds Exchange made my design a reality. I love my ring!!! It is beautiful and well built. Gili is an expert in his field; professional and honest. If you want something special, go see Gili.
Great people and outstanding customer service. Recommended 100%.
I enjoyed working with Gili on a custom ring. I came in with a vague idea and he was patient in giving advice and ultimately creating the design that I had in mind. He was upfront about pricing and timeline so that there were no surprises. If I need to get another diamond, I'll be back!
They really know about gold business. We got a beautiful diamond ring and wedding band for a really good price, also it was exactly the special size that we need (5¾). The attention was excellent. Definitly we will come back to buy more. Thank you Nic🫡
TRAVIS SCARBERRY
2023-09-05
Great place to deal with! They went above and beyond to help me find the perfect ring for my fiancé.. will def be back!!