The carat weight of a diamond or essentially its size, frequently determines whether a proposal will ultimately bloom into a full-fledged engagement! The reel and the real lives often merge at this crucial juncture of a relationship. And a diamond can be held responsible for the outcome.
If you have been out looking for a gorgeous diamond engagement ring, chances are you have stumbled upon quite a few of exquisite beauty and astronomical price tags. When all the other critical "C"s including the diamond's cut, presence of color, and its apparent clarity are compared and remain the same, the diamond's actual size decides the value of the stone. Larger diamonds are more expensive because they are rarer specimens of this highly sought-after jewel.
The best way to view diamonds is to compare them side-by-side. We invite you to schedule an appointment today to view the best selection of wholesale diamonds in Houston including GIA certified diamonds.
What exactly is a "diamond carat"?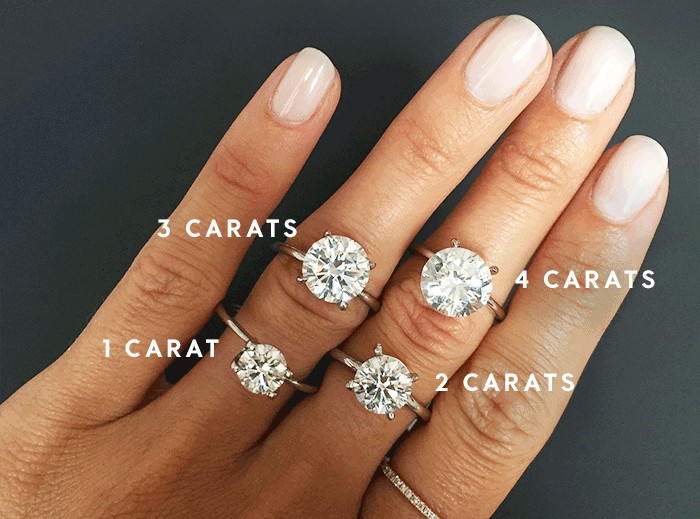 Diamond carat weight is one of the most important 4 C's. The metric called "carat" has a precise denomination of 200 milligrams. Every 1 carat has been subdivided and defined into the accurate hundredth decimal measurement of 100 "points". A diamond weighing anywhere lower than 1 full carat is described only by the point size. For example, a retailer will refer to a diamond weighing 0.27 carats, simply as the "twenty-seven pointer". On the other hand, a diamond that weighs over and above 1 carat will be described in carats and its smaller decimals. Think a 2.09-carat diamond being marked by the jeweler as "two point zero nine carats". And if you have chosen the said 2.09-carat diamond of fine color, excellent cut, and superior clarity, be ready fork out a nice chunk of money on that extraordinary engagement ring! More excellent information concerning diamond carat weight can be found on GIA's website.
Where did carat get this unique nomenclature from?
The value and subsequently the price of a diamond increase manifold with its mounting carat weight. The reason can be attributed to the rarity of diamonds of larger size, superlative clarity, and high demand. However, the apparent size or weight of a diamond cannot be the sole determinant of its value. Two diamonds of similar carat weight can command
highly divergent values
and
subsequently cost
on two sides of the price spectrum. This conspicuous price difference depends on other three significant factors of a diamond's quality – its cut, perceptible clarity and discernible color or the lack thereof. The four aspects of a diamond's quality ultimately settle the price. Diamond Exchange Houston has a large selection of
GIA certified diamonds
and we will allow you to compare stones when you visit our jewelry store in Houston, TX.
What is a diamond's "magic size"?
Particular carat weights in a diamond have been regarded as the "magic sizes". Explore the particular fractions of carats such as the three-quarter of a carat weighing between .69 and .82; the half-carat or .50 points; and the covetable full carat or 1.00 carat. There might be little visual difference between a 1-carat and 0.98-carat loose diamond but the cost difference is vast. Once the carat weight hits the 1-carat mark the price can jump up substantially.
Learn More About Diamonds At Diamond Exchange Houston
Diamond carat weight is an easy to understand part of the 4 C's. However, the best way to learn about diamonds is to actually see diamonds in person and to be educated by the experts in person. Diamond Exchange Houston invites you to schedule an appointment today to view diamonds, engagement rings, and jewelry. We are known for amazing deals on wholesale diamonds and jewelry. If you are interested in learning more about diamonds or would like to shop from our selection then simply fill out our contact form to get started or call us today at 281-623-1105. Be sure to check out our excellent rating and read our Google Reviews. We look forward to being your diamond jeweler for life!
What customer say about Diamond Exchange Houston
Gili and his company were more than 1/2 price and the quality is second to none. it's graded G color, vs2 clarity, excellent cut grade, .72 carats For very good price. Look at that sparkle! A distinct piece! Thanks Houston Diamond Exchange.
chrissy boutte
2023-03-14
My fiancé purchased a custom ring from Gili. He's not a high pressure salesman and made sure my fiancé was getting what he wanted. Be sure to go to Gili to get the bling bling!
Stopped by on short notice with a last minute appointment but Nick and Gili still took their time helping me pick out the perfect engagement ring. I really appreciate these two guys and their hospitality during the entire process. Definitely will recommend to my friends and family for all their diamond needs.
Brandon Aldous
2023-03-11
Fantastic experience purchasing though Nic. I got an amazing deal on a beautiful ring. I was treated with nothing but respect throughout the whole transaction. I'd refer anyone to shop at Diamond Exchange Houston
My engagement ring was ideal for my marriage and the customer service is top notch!
If I could give more stars I would. Gil made the whole process of buying a diamond ring, which is a major expense so effortless. He was responsive to every text, sent additional pictures and answered all my questions. He had the ring polished, appraised for Insurance and sent Fed Ex overnight. All I can say is thank you for an amazing ring and transaction.
Don't go diamond shopping in the mall! You will get way more quality and peace of mind for your money buying from Diamond Exchange. Gili is extremely experienced and knowledgeable as he grew up in the diamond industry. We told them what we were looking for in advance, so they had several diamonds available to choose from. We were very pleased with our diamond and the whole experience! Highly recommended!!
Monique McAfee
2023-02-22
Exceptional customer service! They made the jewelry purchase so pleasant pleasant. They were not pushy and allowed the jewelry to sell itself. They knew where the jewelry came from. A fantastic selection. A bench marked experience for sure.
Ramon Iniguez Jr.
2023-02-15
Me toco ir a Houston Diamond Exchange por recomendación de un conocido. Estuve muy satisfecho con la atención y el servicio que nos proporcionó Gili. Amables, cordiales, y con muy buen servicio al cliente. El tiempo lo tenía encima pero, en unos pocos días estuvo listo el anillo. Fuimos a varios lugares para encontrar el anillo perfecto y por la calidad, precio, y servicio al cliente que recibí, no puedo estar más satisfecho. Les recomiendo ampliamente a Gili y a Diamond Exchange Houston. Por último, cabe destacar que hablan español.